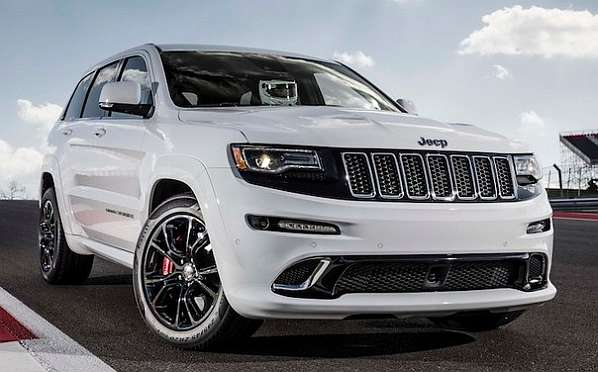 The best performing on-road Jeep vehicle ever returns for 2016 at Crystal Jeep in Cathedral City with its proven and powerful 6.4-liter V-8 with Fuel Saver Technology, delivering 475 horsepower and 470 lb.-ft. of torque. Performance includes 0-60 mph acceleration in 4.8 seconds, 0-100-0 mph in 16.3 seconds, quarter mile in the mid-13 second range and a top speed of 160 mph. The roads of Palm Springs and the rest of the Coachella Valley won't know what to expect when the 2016 Jeep Grand Cherokee SRT is let loose on them.
Inside, the 2016 Grand Cherokee SRT has a revised instrument panel gauge cluster taking on a more enhanced and high-performance look for the savvy Southern California driver. The 7-inch reconfigurable digital display now features the tachometer shown in the middle, similar to other high performance SRT vehicles, while the 180-mph speedometer moves to the left side of the cluster. SRT-exclusive Performance Pages are also revised for the 2016 model year, with an expanded array of performance timers and gauge readouts. All-new drive modes allow 2016 Grand Cherokee SRT owners the ability to personalize their drive experience, whether its on-road or on-track.
The all-wheel drive system, transmission, paddle shifters, stability control, suspension, and steering are all controlled separately by the drive modes. Drive modes are pre-configured for Auto, Sport, Track, Snow, and Tow settings via a mode select switch on the center console, while the Custom setting lets the driver in Palm Springs customize the drive experience to their favorite settings. Custom allows the driver to personalize the vehicle's performance. Auto activates automatically when starting the vehicle. Sport delivers increased vehicle performance capability over the Auto Mode. Track delivers maximum vehicle performance capability on smooth, dry surfaces. Snow delivers optimized snow and ice performance. Tow delivers maximum towing performance. Finally, Eco maximizes fuel economy with a revised shift schedule, pedal map, and second-gear starts.
The Selec-Track system on the Grand Cherokee SRT uses performance-tuned software to distinguish the five dynamic modes: Auto, Sport, Tow, Track, and Snow, enabling drivers to choose a vehicle setting that ideally meets their requirements and ambient conditions. Drivers will find the torque split change in Track mode provides a vehicle that is more responsive from mid-corner to exit and one that delivers faster lap times at their favorite track.
The SRT-model exclusive heated three-spoke steering wheel with a flat bottom features a bevy of comfort, convenience, and connectivity controls and more pronounced, more ergonomically efficient paddle shifters.
The Grand Cherokee SRT rides on a short- and long-arm (SLA) independent front suspension with coil springs, Bilstein adaptive damping suspension (ADS), upper- and aluminum lower-control arms ("A" arms), aluminum knuckle, and aluminum clevis and hollow stabilizer bar. The rear suspension is a multi-link design with coil spring, Bilstein ADS, aluminum lower control arm, independent upper links, plus a separate toe link, and a hollow stabilizer bar.
For added safety and security while driving around Southern California, the 2016 Grand Cherokee SRT receives a new Valet mode, enabling the following vehicle configurations:
•         Engine is remapped to significantly reduce horsepower and torque; limited to 4,000 rpm
•         Transmission locks out access to first gear and upshifts earlier than normal
•         Transmission will treat the manual shifter position the same as the drive position
•         Traction, steering and suspension are set to their Street settings
•         Steering-wheel paddle shifters are disabled
•         Drive Mode functions are disabled
•         Electronic stability control (ESC) is enabled to Full-on
•         Launch control is disabled 
•         Drivers can activate and deactivate Valet mode with a personalized four-digit PIN code.
 The standard massive Brembo brakes on the 2016 Grand Cherokee SRT can be upgraded even further with the available high-performance brake package. This features two-piece aluminum, high-performance rotors front and rear. Also new for 2016, thanks to aluminum suspension components, Jeep Grand Cherokee SRT's weight has been reduced.
The eight-speed automatic transmission in the Grand Cherokee SRT model is specifically engineered to optimize shift quality and shift points for fuel economy, always important for performance, drivability, and the environmentally conscious driver in the Coachella valley. The intelligent software takes into account several different variables, including engine torque gradients, kick-down events, longitudinal and lateral acceleration, grade changes, friction detection, and downshift detection to determine the appropriate shift map.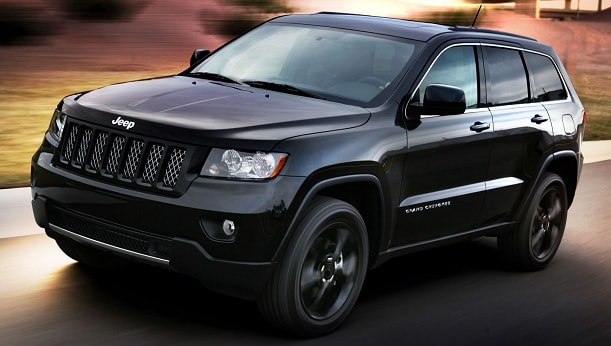 Standard launch control mimics a professional driver's inputs to optimize Grand Cherokee SRT's performance by bringing engine, transmission, driveline, stability control, and suspension in line for a textbook launch. Controlled by a button behind the new polystable shifter on the center console, the result is improved and more consistent straight-line acceleration. New for 2016 is the ability to set launch rpm between 1500 and 3500 in 250 rpm increments.
Transfer case proportioning and dynamic controls for the Selec-Track system further accentuate the performance experience of the 2016 Grand Cherokee SRT when the vehicle is in Track Mode. After this mode is selected, 70 percent of the engine's torque is delivered to the rear wheels for a more pronounced rear-wheel-drive experience. Grand Cherokee SRT drivers will take immediate notice of a vehicle more responsive from mid-corner to exit.
The Grand Cherokee SRT sports its signature, seven-slot upper grille with black screen insert flanked by slimmer, adaptive, bi-xenon headlamps surrounded by a signature LED character lamp treatment. The headlamps on the SRT model feature a unique black background to distinguish the vehicle from other 2016 Jeep Grand Cherokee models around Palm Springs, while further accenting their jewel-like appearance.